Welcome to the Madrone Audubon Society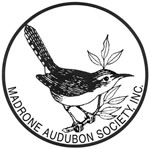 The Sonoma County Chapter of the National Audubon Society was established in 1967 as a non-profit organization promoting education, enjoyment, and protection of the natural world, especially birds.
---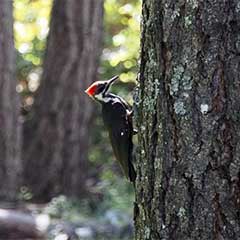 Madrone Audubon Society is a 501c3 nonprofit conservation organization, based in Santa Rosa. Madrone Audubon is also the Sonoma County Chapter of National Audubon and enjoys a total membership of close to 3,000. Our organization engages in education and appreciation of birds and wildlife in our amazing habitats here in Sonoma County as well as focuses on many conservation actions to protect and enhance our environment. For more information click here.
Summer 2023 Monthly Outings
Thursday, June 8, 2023
Riverfront Regional Park, Windsor.  8:30-10:30 AM
Leader: Janet Bosshard
Take Hwy 101 North, take Windsor River Road exit,  turn left and proceed  to Eastside Road, turn left, go about 2 miles.  Park permit is required. We'll meet back by the Redwood grove/restrooms.  For info: 707-526-5883.
Saturday, June 10, 2023
Pine Flat Road, north of Healdsburg, 8:00-11:00 AM
Leader: Linda Fraley
We'll bird up Pine Flat Road in Sonoma County and will need to carpool. The road is a one-lane, rough and winding road and turn-outs may be used. We'll stop at Ferguson Spring and Little Sulphur Creek with perhaps birding to Upper Pine Flat Road if time allows. Meet at Jimtown Store (6706 CA-128, Healdsburg). We'll move to a safe shoulder from there, arrange carpools and proceed up the grade. For info: 559-779-5211.
Saturday, June 17, 2023
Paula Lane area, West Petaluma, 7:30-8:15 AM
Leader: Susan Kirks
Family friendly, early morning experience, a flat surface walk near the Paula Lane Nature Preserve, open space land.  We'll learn about the history of badgers and the effort to bring badgers back to their longstanding habitat.  We'll also listen for the Acorn Woodpecker, pecking, observe for Western Fence Lizards, and quietly look around to see if a Doe and her fawns may be in the area.  We'll take a brief walk uphill to stand in and observe the wildlife corridor.  Reserve a soace: Call or text 707-241-5548. We'll meet at the corner of Paula Lane, Sunset Drive and West Street.
Thursday, June 22, 2023
Laguna de Santa Rosa, Sebastopol, 8:30 -10:30 AM
Leader: Janet Bosshard
Meet in the parking lot, off Hwy #12, before the gas station.  We'll walk the dirt path down to the waterway to look for the kites, hawks, and night herons. For info: 707-526-5883.
Thursday, July 13, 2023
West County Trail, between Graton and Forestville. 8:30-10:30 AM
Leader: Janet Bosshard
Take Hwy 116 north to Ross Station Road, turn left and proceed down to the parking lot on the left. We'll walk to the sewer ponds to look for Wood Ducks and the Barn Owl. It is a mostly shady paved trail, where birds can be active in the morning. For info: 707- 526-5883.
Thursday, July 27, 2023
Foothill Regional County Park, Windsor, 8:30-10:30 AM
Leader: Janet Bosshard
Take Hwy 101 North, take Arata Lane exit, turn right, go 1.3 miles. The park will be on the left. Park permit is required, or park along the street. We'll meet near the restrooms.  It has a gentle hill to walk up and ponds to explore. For info: 707-526-5883.

---
New Items
Important Info for Jan. 1 CBC Team Leaders here.
August 23, 2017: Congressman Huffman forum on Marine Sanctuaries
New Citizen Science Opportunities!
---
It's Nesting Season: trim trees in the Fall!.
Amazon Smile: donate to Madrone when you shop
---
Birding Quiz - test your skills.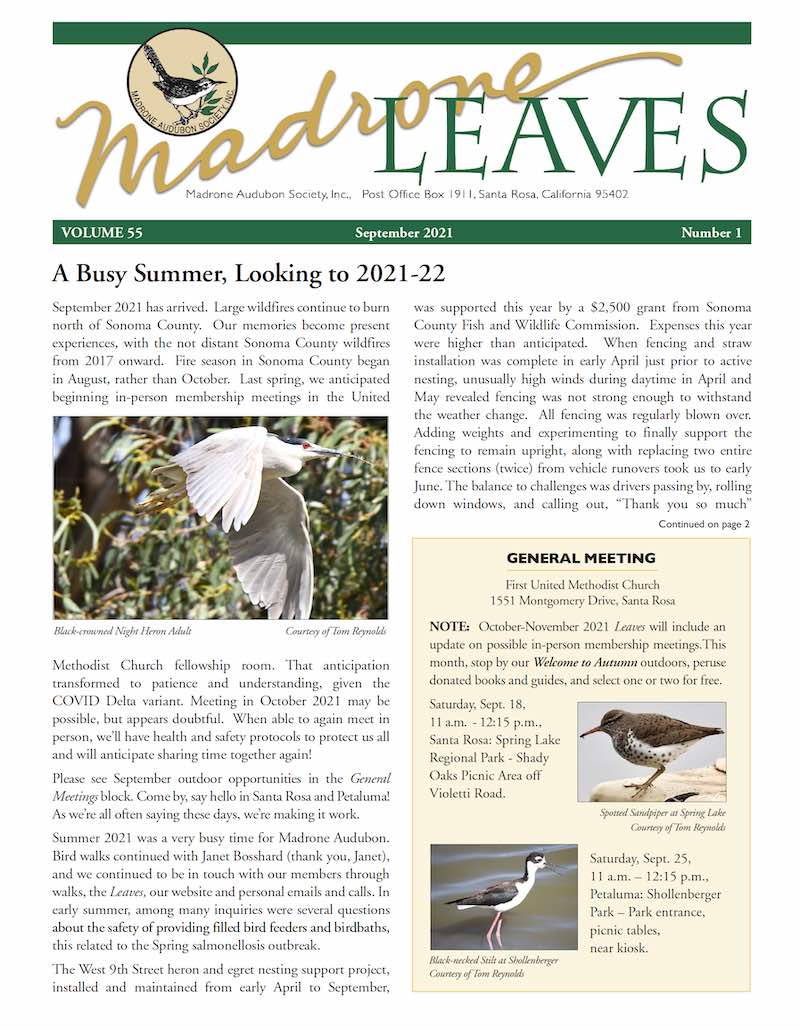 ---
In the 1970s, member Tom Olds hand-carved bird pins and sold them to raise money for Madrone Audubon. More
---