Welcome to the Madrone Audubon Society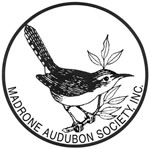 The Sonoma County Chapter of the National Audubon Society was established in 1967 as a non-profit organization promoting education, enjoyment, and protection of the natural world, especially birds.
General Meeting Monday, January 15, 2024, 6:30 p.m.
A New Paradigm for July 4th – Apple Pie and …
Moderated by Susan Kirks, Madrone Audubon President
Join us on Zoom to review and discuss changing July 4 entertainment from fireworks to drone light shows, with examples from other cities and communities. What city or community in Sonoma County will lead the way to help safety, birds and wildlife, pets and domestic animals, individuals with PTSD and health conditions? Bring questions and ideas for discussion.
Location: Virtual via Zoom. New Zoom #.
Join Zoom Meeting: https://us02web.zoom.us/j/89787230219
Meeting ID: 897 8723 0219
By phone, dial 1-669-900-9128.or 1-669-444-9171.
Meeting ID: 897 8723 0219
---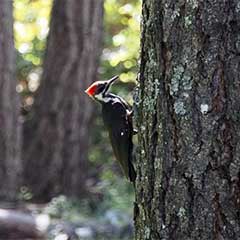 Madrone Audubon Society is a 501c3 nonprofit conservation organization, based in Santa Rosa. Madrone Audubon is also the Sonoma County Chapter of National Audubon and enjoys a total membership of close to 3,000. Our organization engages in education and appreciation of birds and wildlife in our amazing habitats here in Sonoma County as well as focuses on many conservation actions to protect and enhance our environment. For more information click here.
December 2023 & January 2024 Outings
Bring binoculars and wear outdoor clothing suitable for the weather forecast.  Our outings are free for members and the public. (We may have binoculars to loan for your outing.)
Thursday, December 14, Laguna de Santa Rosa Trail, 8:30-10:30 AM
Sebastopol.
Leader:  Janet Bosshard
Meet in the parking lot off Hwy #12. Dress for Sonoma weather conditions.  We'll go off the paved walk to the dirt channel trail (unless it's too wet), then will stay on the paved path. Info: (707) 480-3432.  Rain will cancel the walk.
Saturday, December 16, Paula Lane, West Petaluma, 7:30-8:30 AM
Paula Lane at Sunset Drive and West Street
Leader: Susan Kirks
(Rescheduled from Nov. 18) -- We'll enjoy a quiet, early morning walk near the open space land, listening, observing for winter birds and resident wildlife. We'll talk about the importance of this land and area for grassland habitat, badgers, and coexistence with other wildlife and birds. We'll walk uphill to view the wildlife corridor.  If you joined an earlier walk, return and share the hour with us and new participants to experience the early winter morning.  Ample parking is nearby. Rain cancels.  Small group is best, so please reserve a space.  Text or call 707-241-5548 or email susankirks@sbcglobal.net
No second December Thursday walk due to holidays and Christmas Bird Counts.
Thursday, January 11, Spring Lake Regional Park, 8:30-10:30 AM
Santa Rosa
Leader: Janet Bosshard
Take Newanga Ave., off Summerfield Rd. Meet at the south park restrooms.  Parking permit is required.  We'll walk down to the lake and onto the Fisherman's Trail if not too wet.  Info: (707) 480-3432.  Rain will cancel the walk.
Saturday, January 20, Ellis Creek Ponds, Petaluma, 8:30-10:30 AM
3890 Cypress Drive, Petaluma
Leader: Linda Fraley
Take Highway 101 to Petaluma. Go East on 116 (Lakeville Highway). Turn right (south) on S. McDowell Blvd. Turn right on Cypress Drive. Go to the end of the road and through gates. Meet near the restrooms. Info: (559) 779-5211. Rain cancels
Thursday, January 25, West County Trail, near Forestville, 8:30-10:30 AM
Leader:  Janet Bosshard
Take Guerneville Road, right onto Hwy #116, left on Ross Station Road.  Go down to the parking area on the left.  Parking lot is small; carpool if possible.  We'll walk to the sewer ponds and back.  Info: (707) 480-3432.  Rain will cancel the walk.
Out & About
Become an Osborn Naturalist, Fall 2023 program
Fairfield-Osborn Preserve, Sonoma State Univ. Center for Environmental Inquiry
Community members, college students, teachers, school administrators are encouraged to participate.  Learn to share secrets of nature, along with others, and explore ecosystems of Sonoma Mountain.  Deadline to apply to the current program was Aug. 26th; but, please reach out if you have interest for a possible late inclusion.  To learn more, visit this link: https://cei.sonoma.edu/NES-2023-fall

---
New Items
Important Info for Jan. 1 CBC Team Leaders here.
August 23, 2017: Congressman Huffman forum on Marine Sanctuaries
New Citizen Science Opportunities!
---
It's Nesting Season: trim trees in the Fall!.
Amazon Smile: donate to Madrone when you shop
---
Birding Quiz - test your skills.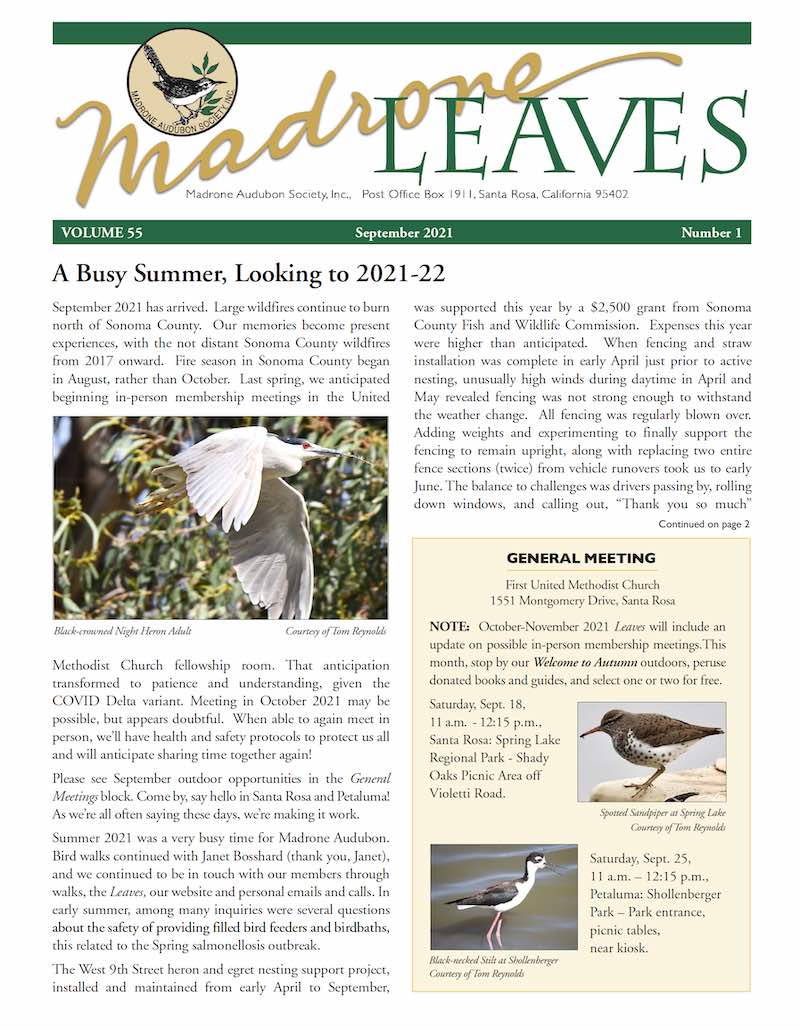 ---
In the 1970s, member Tom Olds hand-carved bird pins and sold them to raise money for Madrone Audubon. More
---