Mayacamas Mountains Sanctuary Field Trips

General Information for All Events »
Walks and Access Orientations Led by Audubon Canyon Ranch's Naturalist »
Map of the Mayacamas Sanctuary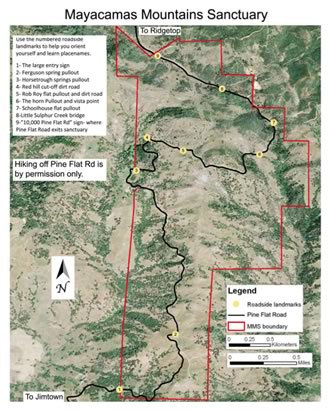 Totaling 1,350 acres of grassy slopes, oak and coniferous woodlands, serpentine outcrops and streams, the sanctuary is located on the western side of the Mayacamas Mountains. In 2012, Audubon Canyon Ranch (ACR) took over ownership and management of the sanctuary from Audubon California, and has since offered a series of public tours and hikes on the property. Madrone Audubon Society, working in conjunction with both Audubon California and ACR, has fostered learning about these lands through a Spring Hike series for many years.
Mayacamas Mountain Sanctuary Map
280 KB PDF
Pine Flat Road, a public county road with pullouts, goes right through the sanctuary, allowing you to visit anytime without appointment to enjoy the views and the bird watching from the roadside pullouts. If you are interested in independently hiking on the preserve, please come to one of ACR's orientation sessions, after which you are welcome to visit on your own if you agree to abide by the guidelines.
General Information for All Events
The field trips are free, open to the public and suitable for all levels of interest. Bring your lunch and refreshments for the day; wear layered clothing, hats, and sun protection. Sturdy walking shoes or hiking boots recommended. Be prepared for rain showers, but heavy rain cancels the hikes unless otherwise indicated. No dogs, no smoking, preserve is not wheelchair accessible. Be aware that spring is the season for the emergence of poison oak, ticks and rattlesnakes. Please clean boots or shoes before entering the sanctuary to reduce the spread of Sudden Oak Death disease.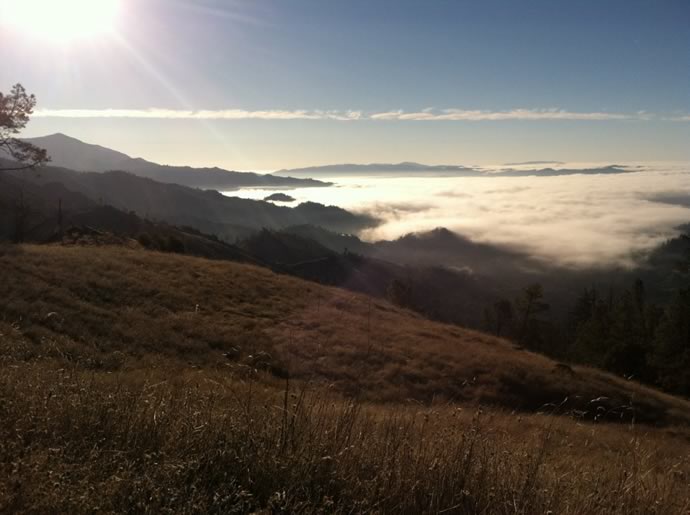 Directions
From Healdsburg, take the Dry Creek Rd exit from 101, turn left onto Healdsburg Ave., then right onto Alexander Valley Rd. to Highway 128. Pine Flat Road begins ¼ mile past the Jimtown Store on Highway 128 East at the first sharp right hand turn. Meet on Pine Flat Road between Red Winery Road and the Sausal Creek Bridge. Informal carpools meet about a half-hour before the field trip at the parking area along Russian River Road just west of Hwy.101.
Walks and Access Orientations Led by Audubon Canyon Ranch's Naturalist
All walks will be led by Dave Self, Plant Ecologist, Ethno-botanist, and Audubon Canyon Ranch's Naturalist for the Mayacamas Sanctuary.
For information, contact David at Audubon Canyon Ranch david.self@egret.org or call 707-813-1055 (Friday thru Tuesday) or visit the Friends of Modini Mayacamas Meetup Group www.meetup.com/Friends-of-the-Modini-Mayacamas/
Last minute cancellations due to weather or such will be posted on the Meetup, as well as updates and photos from the hikes.

---
New Items
Help increase bird-friendly habitat on your own property! Download the Tree and Plant List
Nesting Season is here: No tree trimming February-September - See Guidelines
Message on Inclusivity
Why are Birds Special? videos New video series
New Citizen Science Opportunities!
---
Amazon Smile: donate to Madrone when you shop.
Birding Quiz - test your skills.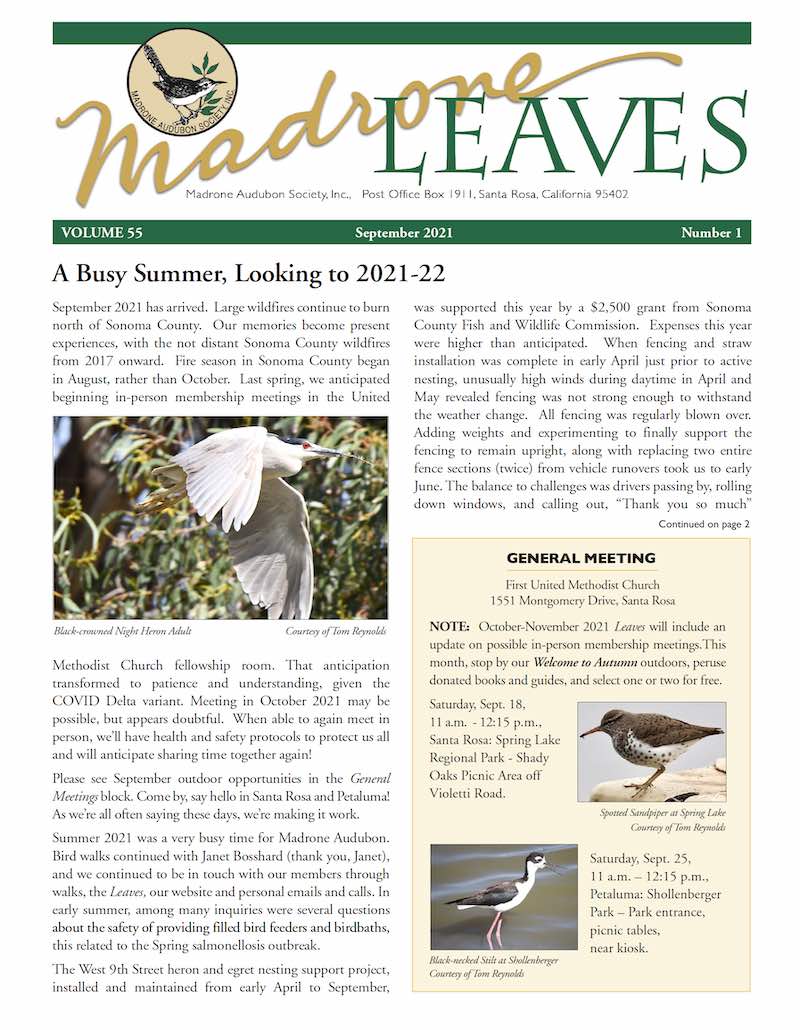 ---
In the 1970s, member Tom Olds hand-carved bird pins and sold them to raise money for Madrone Audubon. More
---